Introduction
This is the second report about a series of visits to various cities, to try out the local public transit. In 2007, from July 18 to 23, I was in Denver, Colorado, riding buses and light rail.
Denver public transit is run by the Regional Transit District (RTD), also known as "The Ride". RTD operates scheduled city bus routes, a light rail system, a Free Mall Ride and several special shuttles.
I did not know Denver at all before this trip; I'd only been there once before, briefly, many years ago.
Wednesday, July 18
I arrived in Denver at 5:30pm on Wednesday July 18, 2007, on a Greyhound Bus from Colorado Springs. The bus was actually operated for Greyhound by TNM&O (Texas, New Mexico and Oklahoma).
Unlike on airlines, my luggage wasn't inspected, but somebody told me later that baggage is definitely inspected on some intercity bus routes, because drivers have been attacked. In the Denver bus terminal, I remember hearing an announcement about inspections for a Kansas City bound bus. I think inspections only apply to carry-on, which I didn't have anyway.
Getting to My Hotel
The Denver bus terminal is at 19th & Curtis. Before leaving home, I had called up the RTD website http://rtd-denver.com/ and used its "trip planner" software to find which buses would take me from the bus station to my hotel.
I had reserved a room at the Comfort Inn , in downtown Denver, at 401 17th Street.
The Trip Planner told me to walk over to Champa Street and ride a #48 bus down one block to 18th, then walk to 16th and ride the "Mall Loop" over to 16th & Tremont. I was then to walk to the hotel at 17th and Tremont.
This seemed unduly cumbersome to me, so I decided to simply walk down Curtis to 17th Street, and follow 17th to the hotel address, wheeling my suitcase behind me. I got to the hotel all right, if a bit weary, and checked in.
The first thing I realized was that I should have walked to 16th & Curtis and taken my first Denver bus ride on the Mall Free Shuttle.
Denver's Car-Free Shopping Mall
In downtown Denver, 16th Street is a bus and pedestrian mall for 20 blocks between the Civic Center and the Union Station AMTRAK.
There are two bus lanes in the mall, one in each direction. These lanes are reserved for the Mall Free Shuttle only; all other buses run on non-mall streets. Buses and light rail lines cross the mall. The mall lanes are also available to emergency and police vehicles. No cars or bicycles are allowed in the bus lanes. There is no parking for cars anywhere on the mall. Picture: 0718071840
The buses are single unit, not articulated, and may be a little larger than the usual 40' bus. They have 4 doors, on one side only. People get on and off rapidly at the stops on each block. Riding the Mall Shuttle is totally free. I found the buses heavily used; several times, I decided to wait for the next bus when one pulled up too full for me to board. All kinds of people ride - tourists, shoppers, bums and business suits. There are about 15 seats, all side-facing and marked priority for seniors. Most riders are willing to stand, because trips are short. There are plenty of posts, grab-bars and straps.
To ride the Free Mall Shuttle, one waits at a distinctive kiosk at a street corner on the mall, for no more than 10 minutes. All 4 doors open; one may use any door to enter. The front door is a single panel. The other doors are double panels, which slide apart against the outside of the bus. Here's a full description of the Mall shuttle bus system. A sign in big letters along the top side of each bus announces "Hybrid Electric / Alternative Fuel Vehicle." These buses are hybrid diesel-electric, with the diesel engine burning compressed natural gas (CNG), stored in a tank on top of the bus. The mall buses are made in Denver, by a company called TRANSTEQ.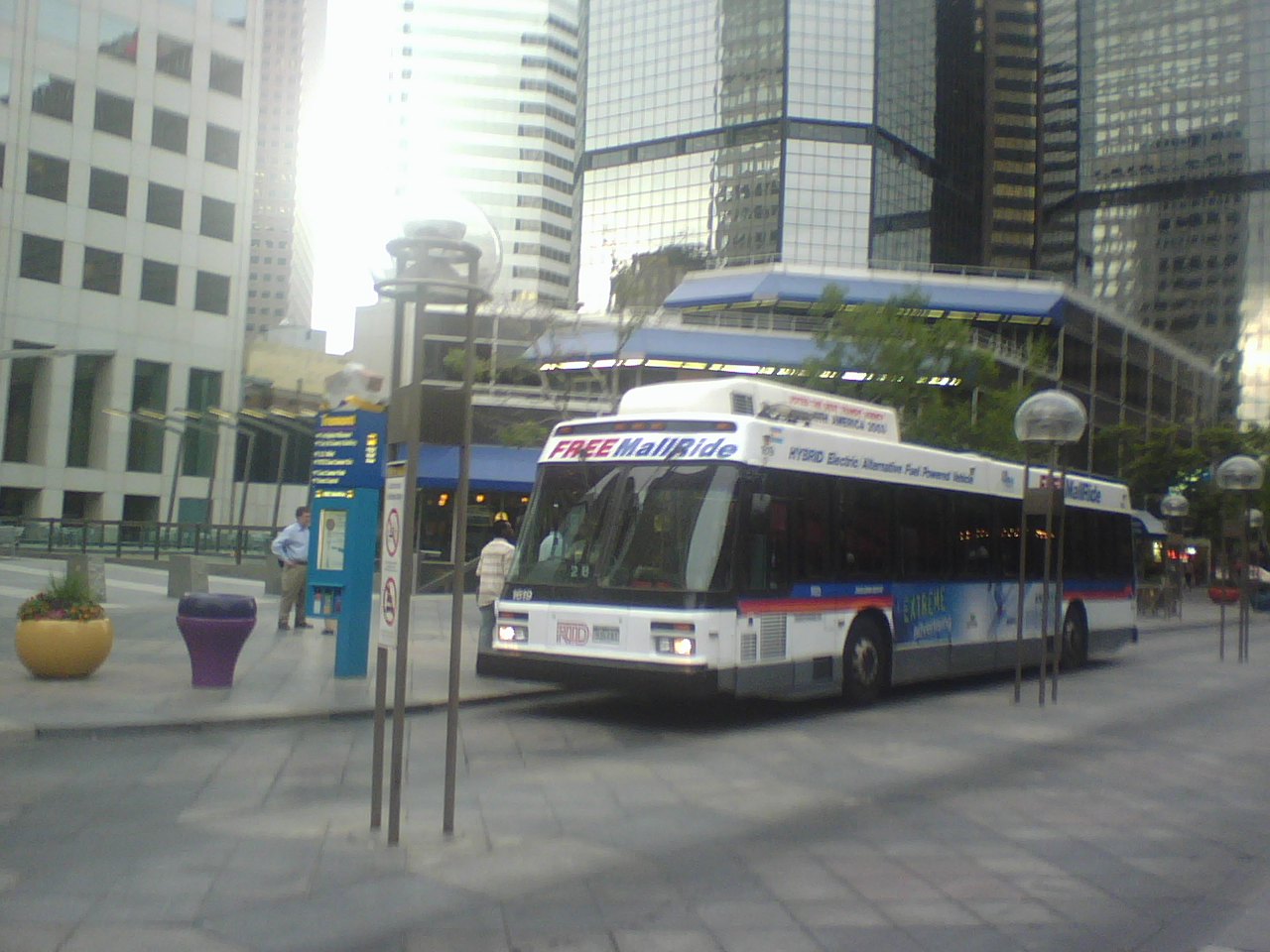 The driver sits up front, in a cubicle on the right - probably the better to watch the doors. The engine is to his left. The TRANSTEQ website http://www.transteq.com/ says the engine is a 70 horsepower 2.5 liter Ford industrial engine, which charges batteries which power a pair of 220 horsepower electric motors which drive the wheels. The buses are rubber-tired vehicles; no rails are used in the mall. The engine is not very loud, but runs nearly all the time at the same rate. Most of the bus noise is the whine from the electric motors. Overall mall bus noise is a minor component of the general downtown background.
Some parts of the mall have just the two bus lanes, sidewalks and the stores on both sides of the street. In other parts, there is a median area between the bus lanes, with benches, tables, kiosks and space for pushcart vendors.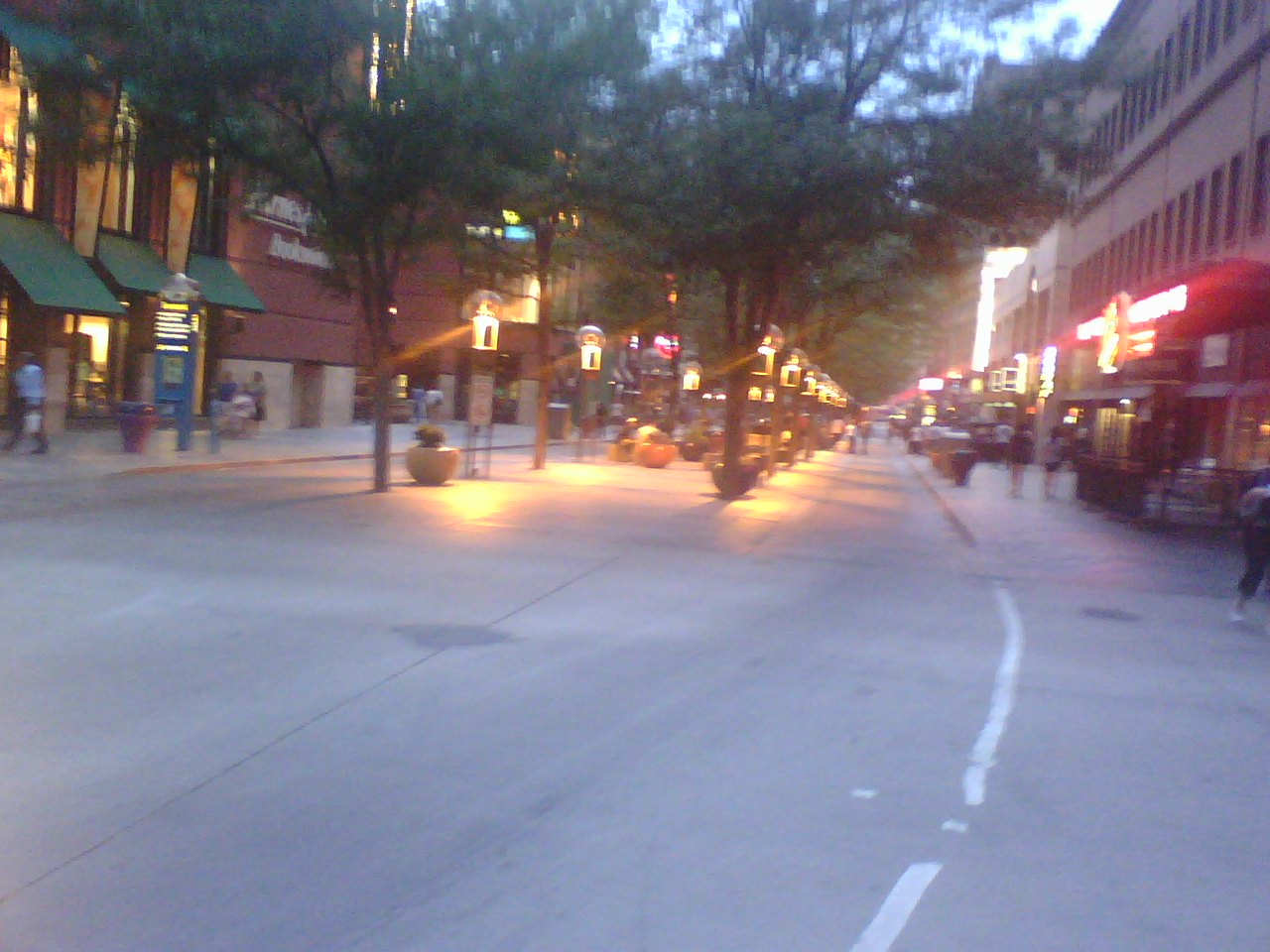 A sign forbids bicycles from the bus lanes, but this rule is widely ignored - especially by the kids. Sometimes I saw a police car parked on the median area. One time, I saw a paramedic van use a bus lane - no lights or siren. It's easy to pull off the bus lane, onto the sidewalk or the median area.
It's really fun to ride the Free Mall Shuttle, select an interesting place shop or eat, from the passing scene, then get off. I saw a wheelchair board the Free Mall Shuttle. At the second door from the front, a ramp flops out to drop on the curb. The bus operator has to get out of the bus to operate the ramp. There are securing straps inside the bus, but they are seldom used, probably because the mall is level and smooth and the trips are typically short.
An automatic voice announcement on the bus identifies the current stop, and the next one. The announcements, in a woman's voice, are very clear and system works well most of the time. Once, the operator must have pushed the wrong button at the start of a run, and the announcements came out for the stops at the other end of the mall. This amused some of the riders, and was quickly corrected.
Pictures: mall bus interior, people getting on and off a mall bus.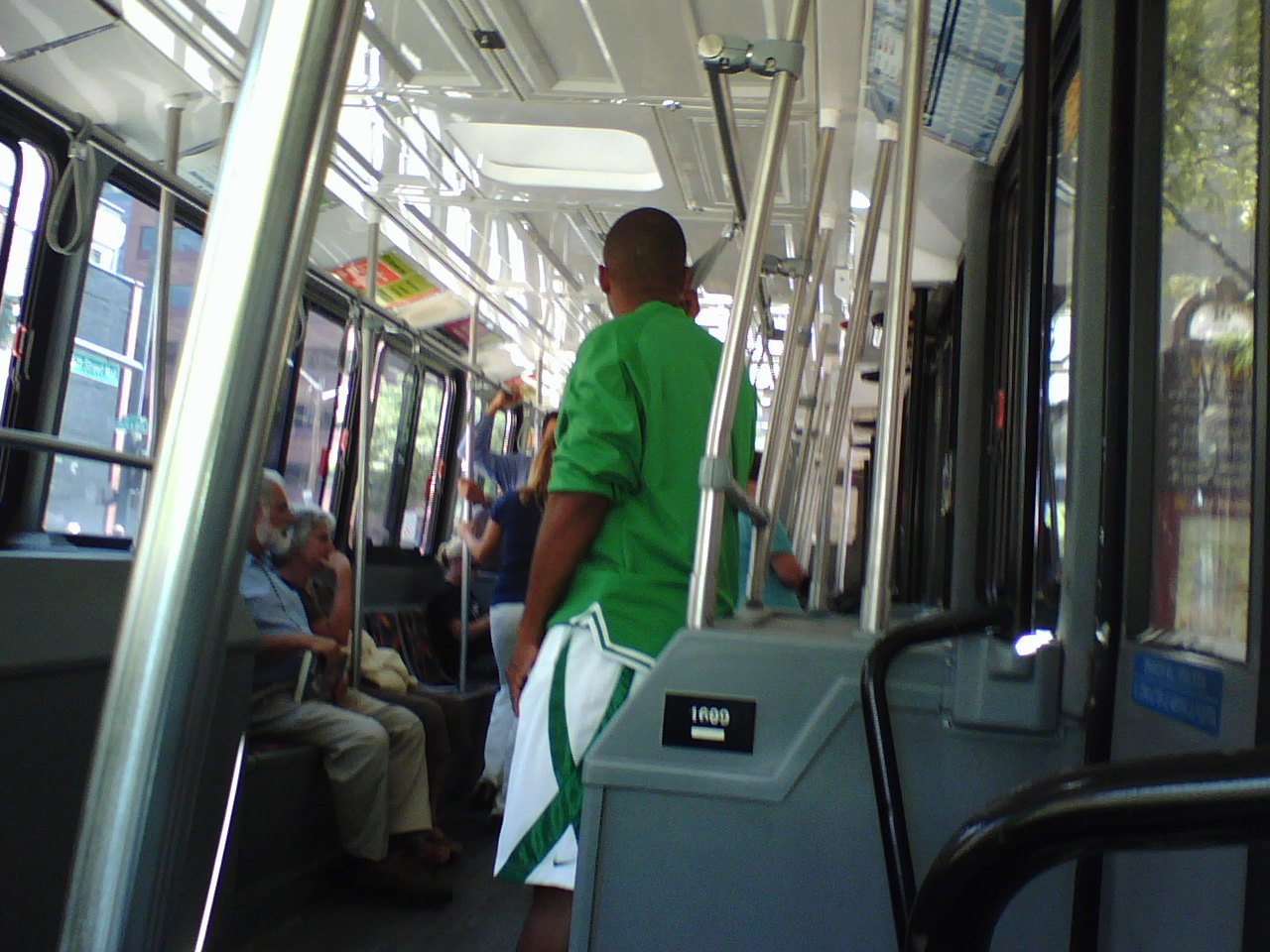 I had dinner at "Bravo!", a nice Italian restaurant -- on the mall. Its windows provided an interesting view of the mall activity. There was a "cattle industry" convention in town. I could see many well-tanned men with cowboy hats, and big buckles on their jeans.
Cars
There are plenty of cars in downtown Denver. The streets feeding the mall have metered parking, and there's more metered parking elsewhere. Many free-enterprise parking lots are operation. I saw the entrance ramp to at least one underground lot, near the 16th Street Mall. I saw posted daily rates of $3 and $4.40 and $60/month for surface lots. One of the tall buildings downtown is the Qwest Office Tower. Next to it is a huge parking garage, at least 8 levels. I could see that the top level was fully occupied (this was on Friday). I guess people who work in the Qwest building don't ride much public transit.
Bikes
I saw numerous bike racks downtown. They are inverted-U pipes, on the sidewalks among the parking meters.
Thursday, July 19
The next morning, I started out exploring the regular scheduled buses. I found a bus stop on 17th, near my hotel. It was marked "X". Other stops were marked "Y" and "Z"; I suppose this letter coding was for some common attribute of the buses which service the stop. My "X" stop listed bus lines #2, #9, #15, #15L, #20, #50 and #16L.
Bus Tickets
Before I left home, I had used the RTD website to buy several booklets of 10-ride tickets, at the senior "regional discount" price. They had arrived by mail and I had them ready to use. Later, I found I could buy more booklets at the downtown RTD store, but it turned out that I had bought enough for the trip.

When a #15 bus arrived, I boarded it and slid one of my tickets into the bill slot on the fare box. The driver greeted me with a smile and offered a transfer, which I declined.

The bus was a typical 40' city bus, made by the Canadian manufacturer Orion. Most RTD buses are Orions. I saw several Gilligs, from Hayward, California. I couldn't identify any other manufacturers. Orion supplies buses to New York City, including NYC's hybrid buses. The Denver Orions I saw were all regular (clean?) diesels. http://en.wikipedia.org/wiki/Orion_Bus_Industries

This Orion bus was a low-floor model, with small platforms over the wheel wells. Side facing seats up front were convenient for seniors. There were no high seats.

The bus passed the domed building of the Colorado State Capitol and proceeded out on Colfax. The neighborhood started looking a little downscale, with fast food, convenience stores and other small businesses. The side streets were all residential. I decided to pull the cord to get off at High & Colfax.
Adopt-a-Stop
I noticed that the trash barrel at the stop where I got off had a sign "Adopted by William Tell". Later, I saw other trash barrels similarly marked (usually with the name of a business). Maybe the stop adopters buy the barrel or empty its contents. Other barrels were marked as sponsored by the Denver Business Improvement District (BID). None of the stops I saw were especially vandalized; maybe the stop adopters take care of that.
Not Getting Lost
To avoid getting lost during such investigations of unfamiliar bus systems, my policy after riding a random bus is to return via the same bus line, unless I'm very sure another line will take me close to my starting point. I found a stop across the street and used another ticket to get a ride back downtown on a #15 bus. I later learned that I could not have used the offered transfer, because they're not valid on the opposite direction of the same line.

I got off at 18th & Tremont and walked back to my hotel for a little rest.

Later, I rode the Mall Bus some more. I noticed a sign saying that in 2003, RTD had been voted the "best transit agency in North America". Not clear who did the voting.
Light Rail
I rode the Mall Bus to California Street, where the northbound light rail crosses. Like most Denver light rail stations, this one gave basic shelter - a roof and a few benches. Stations are not enclosed. They would be uncomfortable for waiting in a cold storm wind.

There was a ticket vending machine and a validator. I pulled out one of my pre-purchased tickets and inserted it into the validator to get a stamp with the day's date and the time at which the ticket expires.

On another day, I bought a ticket just to see how the vending machine works. In that case, the ticket came out with an expiration time already stamped. One gets about 1.5 hours within which to ride - I suppose that's about the longest possible light rail trip.

There are 4 light rail fare zones, with different prices according to how many zones you cross. My pre-purchased tickets were "regional" - good for any zone.

I didn't see any "next train" display. When a train did pull into the station, it displayed its destination, and an automatic voice aboard the train repeated the destination and also gave the next stop.

With my validated ticket in hand, I boarded a northbound train. There were three cars (some trains have two). Each car has 4 doors on one side and 4 doors on the other. Only one side's doors open at a station. Doors are opened and closed by the train operator, but there is a button on the outside of the car which can be pressed to open just the one door, in some conditions.

I had boarded the F-line, and quickly realized that the end of that line was in the next couple stops, so I got off at the next station, on 18th Street, and walked over to the southbound station to board a D-Line train, going to Mineral.

The trains stop at all stations. There's a button on a pole in the cars which evidently can be used to signal for a stop in some circumstances; I never saw it used.

Light Rail Car Interior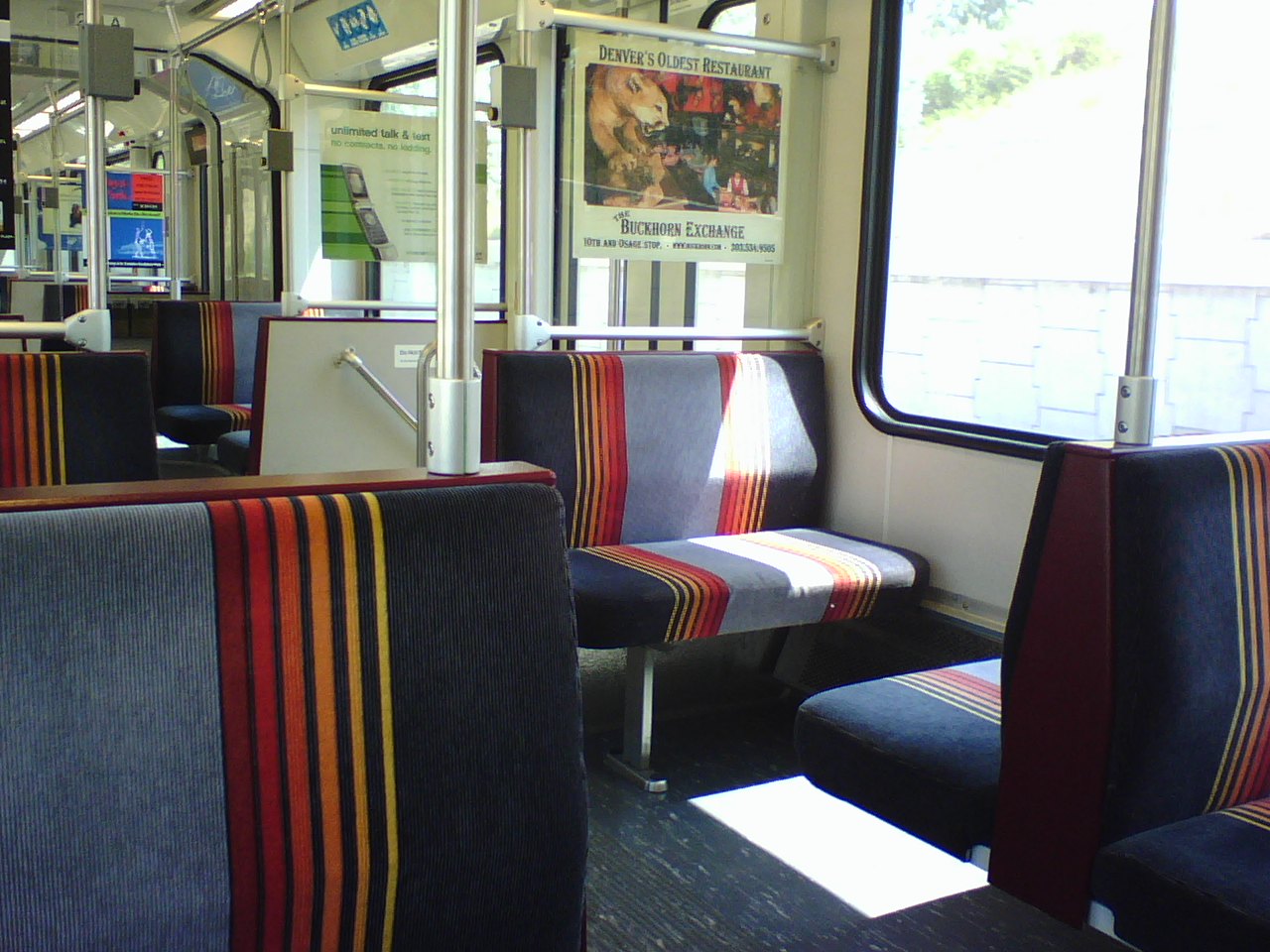 The seats in light rail cars face forward or backward. There is plenty of room between facing pairs. I usually tried to get the one single seat near a door, or one of the window seats of a facing pair. For standees, there are grab bars and hanging straps. All the light rail cars are air-conditioned. They get their electric power from an overhead wire.
One must climb up three steps to board. Wheelchairs must use a special ramp at one end of the station, where the first car stops. At the first door, a "bridge" panel can be dropped over the stairs, allowing a wheelchair to roll directly on board. I never saw this used. I suppose it requires intervention from the train operator.
The Denver light rail cars and the electrical system were built by Siemens. I didn't see who built the stations.
At 8:45am, I was riding the D-line out of central Denver. We crossed Cherry Creek south of town. This is a "daylighted" creek, running in a channel cut about 10 feet below road level. There were two bike paths along the creek, one on each side. Flowing water sparkled in the sunshine as the train crossed the creek.
We stopped at the Auraria station, which is the campus for several schools. The next station was Osage. After that, the train picked up speed and we began passing through industrial areas and railroad yards.
The light rail runs mostly on the surface. The only tunnels are quite short, mainly underpasses. There are no real subways. In some places, the train is elevated to avoid multiple intersections with roads or rail lines.
The stations outside the central city all have parking lots. At the Englewood Civic Center, there was a huge multi-level parking garage. There were buses serving these stations, but apparently it is thought necessary to offer "park-N-ride" to attract riders. I got off at the Aurora station and examined the entrances to the parking lot. There was no evidence of collection of parking fees. All the lots were free. In the Bay Area, BART is starting to charge for parking in the lots at their stations. I think it sends the wrong message when there's a fare to pay for riding the train, but the parking is free.
There are no bridges or tunnels for riders to get across tracks to the other side or to the station exit. The tracks are recessed into the concrete. Riders just walk across, being careful to look for approaching trains. I guess RTD has a good safety record.
At 9:00am, I decided to get off at the Oxford station, and wait for a D-line going back North into Denver. In the nearby (heavy) rail yards, I saw a BNSF train, with about 100 cars piled high with coal. The train was just sitting there, parked ready to deliver fuel to some power plant when required.
Light Rail has a big support facility south of Evans. There are multiple tracks for storing trains not in use. There are also repair sheds. Train operators go on and off duty at this facility.
When the train stops at each station, the automatic voice tells where you are. The doors open. The voice then announces the destination of the train - e.g. "This is the D-line to Mineral". In what seems a very short time, the voice warns "doors are closing", and the doors start closing even before we hear the last word. If a senior or other slowpoke is still trying to get off the train at that point, one can push against the rubber edge on the door, and the door will re-open. I had to do that a few times. I never heard the voice complain that I was impeding the progress of the train.
I got off the train at 16th & California, back on the mall again.
Market Street
I then decided to ride the Mall Bus down to Market Street Station to see what I could pick up from the RTD sales and information office there. I noted the machines which sold more of my regional tickets.

"BX" buses, express to the City of Boulder, depart from this station on the lower level. I decided to concentrate on Denver and do Boulder another time.
Riding to a restaurant
After visiting Market Street, I returned to the hotel. I used the computer there to run the RTD Trip Planner, to find how to get to the "Good Friends" restaurant, which had been recommended to me. The restaurant was out on Colfax, and sure enough, the planner told me to take a #15 bus - simple enough. I also asked for a plan to get to the "Jerusalem Restaurant". That was farther away; the planner told me to use the light rail and connect with a bus.

I made it to "Good Friends", with one minor mishap. I boarded the #15L, which is an express bus. It doesn't hit all the stops. Specifically, it did not stop at Fillmore, where the restaurant was. In fact, the next express stop beyond Fillmore was many blocks away. I got off when I could, and crossed the street to ride a #15 back to Fillmore.

The restaurant meal was good. I rode a #15 back to downtown with no problems.

I decided to go to the "Jerusalem Restaurant" for dinner. About 5:00pm I walked to the mall and rode down to 16th & Stout, where the southbound light rail crosses. I rode the H-line to Colorado, and boarded a #21 bus there. I took the offered transfer this time, thinking I might have a use for it.

For the first time, I noticed a little container mounted on the wall in back of where the bus driver sits. In it are pink slips with the ID number of the bus. A sign encouraged riders to use these pink slips to send in complaints (or commendations). RTD specifically asked for feedback on how well the drivers do about calling out the next stop. I saw these containers on most other RTD buses.

The Jerusalem restaurant was crowded, and I couldn't attract anyone's attention to get served. So I decided to go back. This was when I actually read the transfer and found it doesn't cover travel in the opposite direction on the same bus line. So, I got to use another of my tickets to ride a #21 back to the Colorado light rail station.

I couldn't determine the manufacturer of either of the #21 buses I rode; they were probably Orions. Anyway, they were low-floor. There were no high seats. Some seats in front were side-facing. Stops were signaled with a pull-cord. I wish all bus companies would just forget about the push-buttons and stay with pull-cords. I didn't see a wheelchair lift.
Friday, July 20
At 8:00am the next day, I rode a #12 from 17th. It was a similar to the #21 I'd ridden the previous evening. The route left downtown along 17th Street, then turned on Corona.

I got off at Corona & 11th. This was another of Denver's pleasant residential districts. There were single-story homes and small apartment buildings. Not many businesses. A sign announced the area to be the "East 7th Historic District".

Now, how was I to get back? Corona was one-way, so the #12 must run the other way on a parallel street. I tried the streets on both sides of Corona, but saw no bus stops.

A sign on a pole said "Use what you need - Denver Water." Sprinklers were drenching the lawns; I splashed through a pool on one part of a sidewalk. I located a bus stop for the #2 at Emerson & 8th. A sprinkler prevented me from sitting on the bus bench. When the #2 arrived, its headsign mentioned "downtown", so I thought I was safe. I was back at Colfax & Broadway by 8:35am.
Transit Promotion Advertising
Denver RTD makes a big effort to promote public transit. I remember when I was coming into the city through the suburbs, there were signs:
"Drive Less, Ride More"
"Ozone Alert - Please Carpool"
On the buses, there is an ad sign: "Less Brake Tapping, More Toe-Tapping"
Another sign promoted "Ride Smart Thursdays." "Take the RideSmartThursdays pledge to commute differently just one day a week, either Thursday or any day that works best for you." The idea is for people to pledge to try transit at least one day a week. There'a website: http://ridesmartthursdays.com/ They even mention a "guaranteed ride home" deal.
Ads on light rail trains promote transit-oriented living. "The Ventana" is apartment homes. "The Savoy" at Hampden Town Center is another, part of the national "equity apartments" chain. http://equityapartments.com/default.aspx
All these apartments are convenient to light rail. I wondered if any of them offer car-free leases.
Bronco Bus
For sports fans, there is a "Bronco Bus" which runs only on game days. It takes people from several pickup points, mostly light rail stations, and goes directly to the Invesco Field stadium. The fare is $8 one-way from a light rail station. Here is some of the promotion material:

"RTD's BroncosRide... A tailgate party without the tailgate! On BroncosRide, the fun starts the minute you get on board. Join the fans for the party - straight to the game - and evade the crush of traffic and parking."

"Let BroncosRide lead the drive... It's a snap! The field is your goal, and BroncosRide can get you there from 28 FREE park-n-Ride lots, along Federal Boulevard and Market Street Station. After the game, look for BroncosRide buses right outside the stadium. Just find your park-n-Ride route in it's designated row and hop aboard. BroncosRide buses depart as they fill up. The last bus leaves 45 minutes after the game ends."
Day-Pass
There is a special day-pass for Denver visitors. For $10, one can buy an all-zone RTD adult fare pass good for one specific calendar day. One may ride local and express buses plus light rail. The passes may be purchased at the Market Street transit store.
Changes
Like transit systems elsewhere, RTD is making service changes. A sign says that "Final Service Changes" will happen on August 19, 2007. Some routes will have less service, others will get more. It wasn't clear if whole routes were being discontinued or added.
Work for RTD
RTD seems to be prospering. They are hiring drivers and mechanics. Ads say wages are "up to $21.85/hour".
North Denver
I'd been urged to visit the Mercury Café, at 2199 California. I got off the light rail at 25th & Welton and walked back on California, which is the next street over.

On my way, I encountered a branch of the Denver Public Library labeled "African American Research Library". This part of town is the historic heart of Denver's African-American community.

In this north part of Denver, the light rail stops at 20th. There are buses going farther North. On the south side light rail goes way out to the far suburbs, at Mineral, 9-Mile and Lincoln.

The Mercury Café looked too much like a nightspot, so I decided not to eat lunch there. Instead, I boarded the nearby light rail D-line and rode it all the way to the other end at Mineral.
Mineral
Mineral is a South Denver suburb, out in the wide-open spaces. The light rail parallels a big freeway. On one side is a large development of multi-family homes. On the other side of the freeway, accessible over a pedestrian bridge, is a huge parking lot, and some bus stops. Parking appeared to be free (park-N-ride).

I encountered a bus which was having mechanical problems; a technician had a toolcart next to it. I got a good look at the bus. It was definitely an Orion, like the others I had already ridden. It was definitely a diesel. Nothing indicated whether it was "clean". A sign on the side of the bus read: "Owned by Regional Transit District; Leased to VEOLIA". Maybe VEOLIA is the contractor operating buses around Mineral?

Finding nothing much else to look at, I walked back to the light rail station and stood there in the heat. There were no public toilets. The one toilet was only for RTD employees and required a card-access. I considered watering down the side of that building, but then the train arrived.
Fares
There's a sign where you enter the boarding area of most light rail stations. It says: "Fare-Paid Area; One must have a pass or a ticket to be in the fare-paid area."

Tickets can be purchased from a machine outside the fare-paid area, or one can get books of 10 tickets downtown. Each ticket is stamped with an expiration time. Tickets bought downtown, or through the mail like mine are stamped when I push one into a validator.

I didn't see any fare inspectors until Sunday, but presumably they prowl the fare-paid areas as well as the inside of the trains.

The basic RTD cash fare is $1.50 ($0.75 for seniors etc.) Transfers are free with a cash fare or ticket. The Regional (all-zone on light rail) cash fare is $3.75 ($1.85 for seniors)

A local monthly pass is $54 ($29 for seniors etc.). Regional monthly passes are $135 ($72 for seniors etc.)

Each Regional (senior discount) 10-ride ticket book that I pre-purchased cost me $18.50. They offer no advantage over the corresponding cash fare, but they sure are convenient.

For more details on RTD fares, go to http://rtd-denver.com/ and select "fares" from the menu.

There's another website with information about new developments coming to Denver transit http://www.rtd-fastracks.com/main_1 There are 3 steps to climb to board a Denver light rail car. For wheelchairs, the first door of the first car stops lined-up with the station's wheelchair ramp. A temporary ramp within the car can be dropped over the stairs, and a wheelchair can roll directly in or out. I never saw this used.

All the seats in a light rail car face forward or backward. The seating pattern on each side, between doors is:

Door
2-person, backward
2-person, frontward
Post
2-person, backward
2-person, frontward
Post
2-person, backward
1-person, frontward
Door

So there I was, on July 20, 2007 at high noon, high on the Colorado Plateau, riding a light rail D-line northward from Mineral.

A teenager tunelessly singing annoyed me, so I got off at Englewood. I wasn't fast enough to get into another car before the doors closed, so I hung around and explored the station. Englewood is an event center, with a big parking structure and a nearby shopping center.

There were no public toilets, at least none that weren't behind locked doors. I was about to pee under a pedestrian bridge, but I found a port-a-potty. It was filthy, but it solved my problem.

Someday, all planning for public transit will come to consider that transit riders have bodily functions.

The next train was on the C-line, which goes to Union Station. That was fine, because Union Station (Denver AMTRAK) is one end of the Mall Free Ride. By 1:50pm I was riding back to 16th & Tremont. I even got one of the single seats next to a door.

A general comment: on light rail or the mall bus, he who hesitates is lost. They sure want to keep moving. On both services, the operator is really anxious to get the doors closed (it may be a computerized thing). On the buses, things are less hectic. The bus operator gives seniors the time they need.

I stopped at the hotel for a little rest at this point.
Museum Visit
At 2:40pm, I walked a few blocks to the Colorado History Museum, at 13th & Broadway. I could have taken one of several buses, but walking was reasonably convenient, even in the heat. I was glad to get in where it was air-conditioned. I thoroughly enjoyed the exhibits, which included:
Italians in Colorado
Ancient Voices (Paleo-Indians, Anasazi, other Indians)
European Settlement, displacement of the Utes and other Indians
History Timeline, with pictures of notable people
4-seater electric car, developed in Denver in 1914.
After doing the museum, I walked over to the nearby start of the Mall Free Ride. I boarded the next bus out, and picked a restaurant along the mall. It was the Paramount Café, which features rock & roll and appeals to the younger set. The food wasn't very good.

By 5:15pm I was back in the hotel for another rest.
Night Ride
At 9pm, I decided to ride the light rail to 30th & Downing, which is the northernmost station. The D-line got me there from 16th. Downing is a transit center. There are several bus lines meeting the train. Some bus lines had letter designations instead of numbers. I think they went long-distance, to transit centers farther away. I saw the "Sky Bus" which goes to the Denver Airport.

There was a police presence. Wackenhut Security's "Custom Protection Division" evidently has a contract with RTD to watch the stations, especially late at night. I got the impression that RTD has had some transit violence problems in the past. There are signs on the buses warning of penalties for causing a "disturbance". I had seen security people hanging out at several light rail stations.

At every light rail station, there is a small kiosk labeled "Emergency Telephone". It's supposed to be used only in case of an emergency, not to get transit information. There's a big red button on it labeled "Push for Help". I suppose pushing that brings the cops on the run.

I didn't go anywhere from Downing. At 9:34pm, I rode the D-line back to 16th.

Things were jumping on the mall, even as the bell tower at Curtis struck 10pm. A live band was playing. Pedicabs and horse-drawn carriages were in use. The Mall Buses were crowded. I suppose this activity is usual for a Denver Friday night in the summer.

I wandered around for a while, enjoying the car-free ambience. I thought I heard a voice announcement from a passing mall bus that the last trip was 1:35am. I didn't want to play night-owl; I was back in my hotel by 10:35pm.
Saturday, July 21
The next morning, I continued my custom of boarding a random bus from 17th Street. This time I caught the "0" bus. It traveled south on Broadway. I got off at 6th, in a commercial district, where Broadway is very broad - 5 lanes in each direction. There were no bus-only lanes or diamond lanes.

I had my usual fun figuring out how to get back. I found a bus stop for the returning "0" line on a parallel street. I had picked up a schedule. The returning bus arrived on time, at 8:15am.

AC Transit runs a "O" (letter O) bus, so I thought that's what I was riding there in Denver, but I heard several people call the Denver bus "zero". This is the first bus numbered 0 that I've encountered anywhere. RTD does have some bus lines with letter names.

I got off near the pioneer statue at Broadway & Colfax, about 10am. On the sidewalk, a guy was trying to sell bus tickets for $1 each. I wonder where he got them. I boarded another Zero bus, and rode it to the light rail station at I-25 & Broadway. I thought of taking a random bus from there, such as the #11. Instead, I boarded an H-line train to 9-Mile.

The train passed stations named Yale, Dayton and Southmoor. We were in the wide-open spaces. There were many multi-family buildings and some large apartment buildings. Condominiums were for sale. There were golf courses and ball fields. There were only a few tall commercial buildings. I saw numerous "for rent" signs on this trip and elsewhere all over Denver. There were not so many in central downtown.

"9-Mile" was probably named from a time when it was 9 miles away from someplace. Today, 9-Mile is another Denver suburb, with multi-family units, a freeway and a 3-level parking garage. A shopping center was visible across the freeway. I could not find a bridge or tunnel to get there. The only way was to drive, or walk quite some distance to where a traffic light halted the freeway traffic. I decided it was too much effort to shop.

At 11am, I was riding the H-line back to downtown. The automatic voice announcement got confused. At Yale station, it announced "18th & California". Then, as we left several subsequent stops, it said that the nest stop was "Dayton", even after we'd passed Dayton. It could have been either a bug in the software, or something the train operator did wrong.
Louisiana-Pearl
At 11:30am, I got off at Louisiana-Pearl station, because I was intrigued by the name. I was expecting a bayou-flavored neighborhood. It was, sort of. The buildings were mostly bungalows and small shops. I saw nothing over 3 stories. In the heat, I did kind of feel like I was in Louisiana. The station is named from being near the intersection of Louisiana Street and Pearl Street.

I tried to buy a sandwich at "Duffey's", which advertises itself as famous for its cinnamon rolls. The family getting served made a big deal out of their choices, then the two women between me and them started yet another extended negotiation. So I left famous Duffey's and got my sandwich at the 7-11 across the street. All was not lost, because I spotted a "Wild Oats" market down the street. I went there to buy some vegi deli stuff.

I must say I liked the ambience of the Louisiana-Pearl neighborhood. I think if for some reason I had to live in the Denver area, I'd pick the Louisiana-Pearl neighborhood. I left with some reluctance, boarding the E-line to Union Station and the Mall Bus back to the hotel.
Medical Center
After resting a little, I boarded a #10 bus at 2:45pm. This bus turned out to be made by Gillig, the bus manufacturer in Hayward, California. It had a low floor and a raised rear platform, with 6 side-facing seats and a rear bench. Up front, there were 3 pairs of forward-facing seats, on both sides of the aisle. There were platforms over the wheels, which could be used to set down packages. On one of the platforms was a container with bus supplies.

The #10 bus went out on 12th Street. Near Race Street, we passed through a large city park, with a lot of grassy area and a couple of gazebos. Near the park was another nice residential neighborhood, with bungalows and apartments.

The bus turned onto Colorado, a major thoroughfare. The end of the line was in a cluster of hospitals and other medical buildings. Some of them were part of U of Colorado Health Science Center. Others belonged to Rose Medical Center and the Veterans Administration. There was abundant parking in lots and on the street. I didn't see any multi-floor parking structures. At least one other bus line serves the medical complex.

I got a little lost, trying to find where to board the return bus. I suppose I should have just stayed at the end of the line.
Govinda Adventure
When I got back downtown, I decided to use my trip planner directions to go to "Govinda's Buffet", a restaurant on the edge of the city, which was said to open at 5pm on Saturdays. This turned into quite an adventure.

The trip planner gave me a chain of 3 buses. I started by boarding the now-familiar #15 going out Colfax. I was already at Colfax & Broadway. I passed-up a #15L express bus, because I wasn't sure the stop where I was to change buses was an express stop. So I waited for a #15. After I got aboard, I remembered that the trip planner wanted me to board a #15 Kramera, and the bus I was on had a different headsign. So I got back off after a few stops, to wait for the #15 Kramera. I had saved a ticket anyway, because the fare box had been broken, the only time I'd seen that in Denver.

While I was waiting, sitting on a bench, I started coughing. I lady seated upwind of me asked if her cigarette was bothering me. Clearly it was, so she got up and moved away. I didn't see any signs forbidding smoking at a bus stop. Then a man sat down where she had been, and started puffing away on some kind of small cigar. I got up and moved out of smoke range.

Eventually, the correct #15 showed up, and I rode it to Colfax & Colorado.

My next bus was the #40 Southmoor, which was to take me to Colorado & Cherry Creek. The planner said I should stand at the Southwest corner of the intersection. I was able to use the sun to identify the southwest. I soon boarded the #40 bus, and rode it to Colorado & Cherry Creek.

Again, the planner's instructions were to stand on the Southwest corner. Using the sun, I couldn't see a stop there, so I went to the stop on the other side of Cherry Creek, where I could see a schedule on a pole. The schedule soon made it clear that this stop was for the opposite direction I needed to go, so I crossed back over, backtracked a little until I located the lonely marker for the stop, a #46 bus.

A thunderstorm to the South announced its presence with a thunderclap. A few drops of rain fell. I decided I would count 20 passing cars, and if the #46 hadn't shown up by then, I'd start heading back home. But the #46 quickly appeared, and I got aboard.

I'm not sure of the manufacturer of this bus. In front, on one side, there was a side-facing bank of "step-up seats". A broad step extended into the aisle below the seats, about 6 inches from the aisle floor, to give one a little boost. Maybe AC Transit could do something similar on the Van Hools.

The trip planner's final instructions were to get off at Birch & Arkansas. At this point, my bus was traveling along Cherry Creek. I noticed Birch Street going by. I became a little apprehensive. Then the bus turned and started going back the way we came, on a street paralleling Cherry Creek. It then turned on Birch, and started passing streets named Tennessee, Texas, Mississippi,… I started to feel more comfortable. Sure enough, I could see Arkansas coming, and I pulled the cord.

I found myself in a mixed neighborhood of homes and a few low commercial buildings. There was no sign of any restaurant, or any sign saying "Govinda". I walked up and down on Arkansas and then on Birch, and did not see any restaurant. Evidently I had been misdirected. Maybe I had given bad information to the trip planner. So now what?

I recalled then that the restaurant address was actually on Cherry Creek, so I started to trace my way back to that street. I walked back to where I thought the #46 bus had turned off Cherry Creek, but didn't see the street name. The main road I'd been walking toward was Mississippi. I then turned 90 degrees, hoping to intersect Cherry Creek. As I walked, I encountered a small boy, sitting on the curb. He said "Hi," and I replied. When I got closer, he asked "are you Santa Claus?" I have grey hair, perhaps a jolly red face, but no beard, and my clothes are not very close to Santa's usual garb. I denied being Santa. "I'm just lost," I said. Unsatisfied with my reply, the boy followed me for a few blocks, unconcerned with the rumblings from the storm behind us. He kept asking "what?" Finally, he abandoned me.

I never did cross Cherry Creek. I did encounter a bus stop for the #11 line, which I recalled seeing at a light rail station elsewhere, but I wasn't sure if this stop was going in that direction. The thunder muttered, but it still wasn't really raining. I used the sun to head West, and eventually came up to Colorado, much to my relief. I found a #40 bus stop, and hoped I was going in the right direction. After I'd boarded the bus, it passed Cherry Creek, where I'd boarded the #46, so I knew I was right. It was now clear that I had been nowhere near Cherry Creek during my walk. >p>Now I thought I was on my way home, safe from the storm aboard a bus. All I had to do was get off at Colfax and catch a #15 bus back into downtown Denver. The bus was crowded and noisy. I did have a seat up front, though. The driver was calling out the stops, but he had an (India?) accent. Somehow, I missed his call of Colfax, and didn't recognize the intersection myself. After a while, I realized I wasn't going to see Colfax this trip. The bus was approaching the end of its route, way out in Commerce City. I timorously said to the driver "I must have missed Colfax." He grinned and agreed; several of the remaining riders laughed. "Stay on the bus, " the driver said, "and I'll take you back there." I had to wait 15-20 minutes while he took his break, then he started back the other way. He made sure I got off at Colfax this time. I thanked him for his kindness and patience.

The adventure wasn't quite over. The storm was still threatening, but seemed unlikely to drench me, especially if I caught a #15 fairly soon. I found the stop and waited.

Two women were at the stop. One was in a wheelchair; the other was sitting on a bench. They were talking earnestly. The woman in the wheelchair started crying. I couldn't figure out what the problem was, and tried to stay out of it. They ignored me. When the #15 bus arrived, the wheelchair went aboard via the lift, and the other woman went away. All the way downtown, the woman in the wheelchair kept alternately crying and laughing. I was glad to get off when I got to Broadway.
Sunday, July 22 The next day was Sunday, my last full day in Denver.
I wanted to complete my coverage of the light rail system by going to Lincoln. A sign said that the F-line to Lincoln did not run on Sundays. So I decided to explore the other end of the light rail.

I boarded the D-line North and got off at the end of the line at 30th and Downing, where I'd already been once, at night. I boarded a #38 bus., which went on Bruce Randolph Avenue in North Denver. The neighborhood was mostly residential, single-story homes, duplexes, small apartment buildings, some small shopping areas, tree-lined streets.

This appeared to be a mostly Black district, with some Hispanics. I got off at Stapelton & 35th, near the "Mile High Church of Christ". I could hear a service in progress within.

In the church parking lot, I saw two interesting bumper-stickers:
Fight Crime - Shoot Back
Gun Control is a Steady Hand
It was a quiet Sunday morning, but still hot. There were benches at most bus stops, but no shelters and little shade. RTD bus shelters generally seem to be set up where bus lines cross.

I found a little shade near a stop, then waited maybe a half-hour for a #38 bus going back. On the way back, I saw a wheelchair boarding with a ramp. The driver was asked to strap the rider in.

At 30th & Downing, I boarded the D-line again. I noticed that when a train is stopped with its doors closed, one door may be opened with a push-button on the side of the train, if the push-button is illuminated. I gratefully got aboard into the air-conditioned interior. I was back at 16th & Stout at 10:38am.
Fare Inspectors
At 12:41, I decided to travel South again. I boarded a D-line, planning to get off some place I hadn't been and then board a random bus.

Between Evans and Englewood, Fare Inspectors boarded the train! They were Wackenhut security people, in full police regalia, including club and pistol. The inspector in my car checked passes and tickets as the train was moving. He looked at my validated ticket, noted the expiration time hadn't passed, pleasantly thanked me and continued inspecting.

At the other end of my car, I saw the inspector dealing with someone unable to find his POP. I had planned to get off at Englewood, but decided to stay on and see what happened. The offender was escorted off the train, presumably to buy a valid ticket. I couldn't see for sure, but I don't think any citation was issued.

At 12:28pm, I got off at Littleton Downtown. I started to walk around, but got bothered by the heat. The one bus line I encountered ran hourly on Sundays, and I didn't want to repeat the long hot wait I'd had earlier in the day. So I got on a D-line headed back North.

At 1:21pm, I got off at Englewood. I wandered around the big shopping center there. Finally I boarded the familiar Zero bus which starts its run there. The bus rolled along Broadway. One can see the tall buildings of downtown a long way off, because Broadway is very straight and flat. I got off the Zero at Civic Center and walked back to the hotel.
Lincoln
I found out that the E-line from Union Station still goes to Lincoln, even on a Sunday. So about 3pm, I used the Mall Bus to get to Union Station, and boarded the E-line.

At about 4pm, I got to Lincoln.

Lincoln is another wide-open spaces suburb with plenty of grassland. It looked newer than the others. There was some building construction in progress. I saw fewer residential units than in other suburbs, but more multi-story commercial buildings, scattered over the landscape. Road signs advertised "Tollway to Limon" and "Bypass to Denver Airport."

There was a huge parking structure, 6 or 7 levels. It seems that any transit system has to provide parking for its suburban users, because there isn't enough feeder bus service to the station.

There was a nice-looking pedestrian bridge over the freeway. It was a suspension bridge. There were other similar bridges at some of the other stations North of Lincoln.

Just before Lincoln is "County Line" station, with a huge shopping center (and huge parking lot). I remembered passing through this area coming in from Colorado Springs. The freeway sound walls have beautiful bas-relief on them. The same art is on the concrete walls of the light rail stations.

I went back to the hotel after this.

On the way, near the 16th Street Mall, I encountered a Denver City worker. On the back of his shirt was the lettering:

Downtown Denver
Clean, Safe, Vibrant

I had to agree.
End of the Trip
The next morning, I checked out of the hotel, rode the Mall Bus to Curtis Street, walked to 19th to find the bus station, and returned to Colorado Springs. From there, I flew back to the Bay Area.
Interesting Sculpture
My light rail trips often passed the Denver Performing Arts Center. There's an eye-catching sculpture in the yard. Two very large white or grey colored stick figures are dancing, holding hands. They were particularly startling at night. http://www.superstock.com/search/Borofsky

At the nearby Denver Conference Center, a huge blue statue of a bear is peering in the front window. http://debtorby.typepad.com/connections/2005/10/denvers_big_blu.html